Installing Your Overhead Crane - What To Expect & How To Prepare
This short piece of information is going to simplify your work life, save you time and money, improve your facility safety and reduce your stress. Take a few moments, read through this short introduction—thoroughly—and then take a quick peek at the checklist. It's designed specifically for your company.
Your building might not be brand new and by now it has become obvious to everyone that an overhead crane is a necessity. It should be considered an investment in your productivity, but will only be so if you do it right. After all, nobody wants to second-guess the installation, its capacity and its reach, and its ability to do everything you need. That's a disaster to be avoided at all costs, and you're going to get a game plan on how to do just that.
First and foremost, take the time to think this through. You've heard the old saying: "Measure twice but cut once." Keep that in mind and you won't find yourself say, "I wish we had…" The secret to happily and easily installing your overhead crane is to give yourself time to do the planning. Talk with your people, of course and talk with the experts. While there is another old saying, "talk is cheap", the truth is that not talking with everyone who will be using the crane can be incredibly expensive.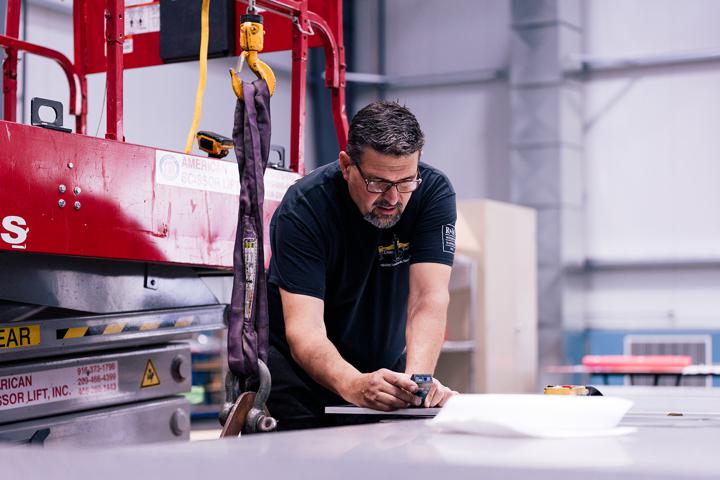 Knowing the lifting needs of your people will help to define what it is you need in terms of equipment. You should know enough that you can feel comfortable phoning a few machinery dealers and inviting their sales engineers to visit your plant, consider your needs, and provide you with a proposal. Take your time here, as well. Short on time? Then begin this process as early as you can. Make time your ally. Trust time to help you reach intelligent decisions.
Durations are measured in days and weeks—not in hours. Installations can take 2 to 10 days for smaller cranes and up to 30 days+ for larger ones, depending on the project. Each manufacturer is different; each facility is different. Installation will inconvenience some departments for longer than what they would like. Get all to 'buy in' to the install.
While you are talking with your people, you can also talk with machinery dealers in your area. The great thing here is that if you start this process early enough of meeting and listening to the various distributors, you'll have plenty of time to gather info. Shortcut the process and you'll run out of time and be short on the information. Start early, meet everyone, gather preliminary information. At this point, you'll be able to project a budget, which can then be taken to your management team for direction on how to proceed.
Consider the service your crane technician can provide. Is it local? Is it 24/7/365? Do they stock wear parts? Do they have good examples of clients and projects to back it up?
Crane Installation Checklist
This checklist for the installation of an overhead crane is a tool to keep you on point during this process and give you at least two dozen data points to help you make an excellent decision.
Download your PDF copy of the checklist here.
Description of Items to Check
Meet onsite with sales engineers
View obstacles
View where crane system can be staged prior to delivery
Discuss what kind of equipment will be needed to assist in the install
Discuss how the equipment and crane system will enter the facility
Note size of overhead door available for entry
Note presence of open pits on floor, conveyors & other machines in way needing to be moved
Have obstacles, as discussed, been moved by company team?
Point out to installers all headroom, accessibility, how they get into bldg., hours of operation, what they have to maneuver around, location of power sources (and power specs), items not movable (ductwork/utilities
Be prepared for frequent contact between our team and vendor team; cell phones for point of contact, both teams
*Discuss use of onsite company equipment by vendor team (fork lift, mobile crane, scissor lift, articulating lift, JLG lift, welders, torches
*Discuss use of company personnel (welders & rod), general labor to help on occasion
*Discuss permits, fees and inspection: responsibility?
Verification that the overhead crane company is buying can be installed where we want and actually do the work we want done? This is to be discuss ahead of installation and included in the purchase agreement.
Manufacturer to meet onsite with company and verify its equipment will do the job, the way our company intends it to operate.
Verify with vendor: lift capacity, speed, clearances down runway, right hook approach and correct span.
Verify all 'bells & whistles' included/excluded from purchase and installation
After install, vendor will do a load test at 110% of rating to verify it'll statically hold the load safely, no brake slippage.
After install, vendor & company to verify proper clearances, full range of motion.
After install, if something goes wrong with testing, vendor to confer with manufacturer for a solution
After install, verify is there too much deflection. Manufacturer will have to provide re-design.
Is safety class required for installers? If so, class is scheduled for first thing on Day 1
Importance of the install date: equip is being rented, crews and trucks sit idle and no work is being done. That is chargeable time. How to avoid: doors open & clear and free of equip and obstacles; permits (and hot work permits) must be on hand; an inspector may be necessary or on call; the rest of the plant personnel must know which areas will be closed off to them during the install process
*Use of company team equipment and personnel should equate to savings on installation costs