With the increase in construction and manufacturing across the country, cranes have become an important part of maintaining the national infrastructure. They aid in moving construction materials around job sites, lifting other pieces of machinery around shops, and allowing workers to perform their jobs efficiently.
Because there are more cranes in operation than ever before, the demand for qualified mechanics to keep cranes safe and operational has also increased. If you've ever thought of working with your hands in a growing industry, here's what you need to know about becoming a crane technician.
What Is a Crane Technician?
Simply put, a crane technician a heavy equipment mechanic who maintains and repairs cranes. They're responsible for routine maintenance tasks like lubricating parts and performing inspections, in addition to more major repair jobs like replacing and repairing parts to ensure proper operation.
Besides the physical work of repairing equipment, a crane service technician must also keep detailed records of their maintenance and repair logs. Records are important when working with heavy machinery, which is why crane technicians need to be organized.
Most of a crane technician's work is inside a shop, though there are times when they must make repairs or perform maintenance tasks outside on-site. It's a great job for people who like to work with their hands and possess a high level of awareness-especially as it relates to safety.
The pay range depends greatly on location. Northeast states like New York and New Hampshire offer some of the highest pay rates for crane technicians, while Texas and North Carolina rank on the lower end of the spectrum.
On average, crane technicians earn between $20 to $30 per hour. This works out to an annual salary of around $53,370, which is approximately $2,000 more per year compared to the national average. However, at CraneTech, our top technicians can earn up to $50 per hour, or more! View the latest job openings at CraneTech here.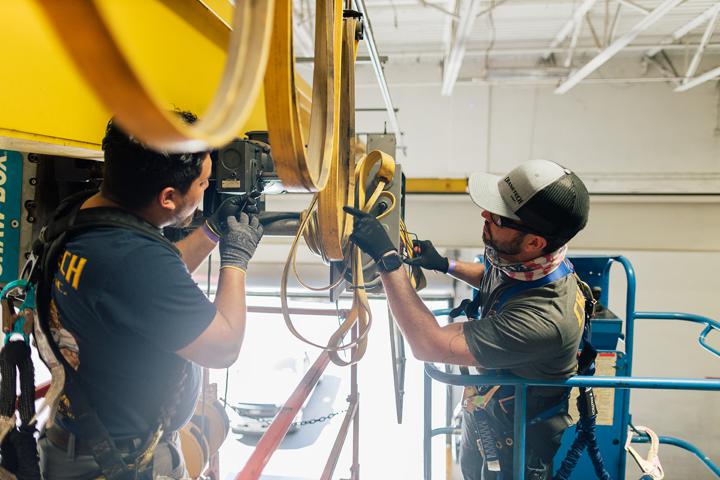 Responsibilities of a Crane Technician
The main responsibility of a crane service technician is to ensure cranes are both operational and safe. This includes regular maintenance tasks like replacing fluids, filters, or parts as necessary, as well as performing major repairs to a wide variety of cranes:
Mobile crane
Truck-mounted crane
Telescopic crane
Tower crane
Loader crane
Crane repairs could range anywhere from simply replacing bolts and pulleys to completely rebuilding engines and machine parts. It can be quite intensive. This job requires the ability to lift heavy objects, manual dexterity, and working from heights—particularly if for overhead crane technicians.
To ensure all cranes remain in good condition, crane technicians will also need to develop and stick to an annual inspection and maintenance schedule.
Because cranes are heavy machinery, they can be dangerous to operate. It's essential that crane technicians follow all safety standards and compliance requirements set by various health and safety organizations:
American National Standards Institute (ANSI)
Occupational Safety and Health Administration (OSHA)
State and local industrial safety commissions
Cranes aren't always in an ideal place for repairs. To move machinery around the yard or into the shop and to test for proper functionality, technicians will also need to be a proficient crane operator.
Training for Crane Technicians
For crane technicians, most of the training takes place on the job. A high school diploma or equivalent is required for most positions, though that largely depends on the employer. Some companies prefer an undergraduate certificate or an associate degree in a related field:
Mechanical repair
Diesel mechanic
Heavy equipment mechanic
Electronics
Electrical engineering
Construction
There are also crane technician schools that can teach the specific skills needed to work on and maintain heavy equipment. No matter your education or background, all crane technicians need experience in the following topics to be proficient:
Hydraulics
Diesel engines
Electrical systems
Pulleys
Computer diagnostic systems
Since crane technicians often need to operate the machinery, a crane operator certification may also be required for the job.
Crane Technician Employment Prospects
With the increase in building projects and heavy machinery, more and more crane technicians are needed to maintain and repair equipment.
According to the Bureau of Labor and Statistics, the need for heavy equipment mechanics is expected to grow in the upcoming years. The demand for crane technicians is expected to grow by 11% for the next ten years, which is faster than average compared to other industries.
Become a Crane Technician
Crane technicians earn a competitive salary, and demand for qualified technicians is on the rise. If you every considered working on heavy machinery for a living, now is a good time to begin your career as a crane technician.
If you're interested in becoming a crane technician, Crane Tech offers crane operator training to ensure proper usage of cranes and all their components. We also hire qualified applicants to join our team of crane technicians, providing high-quality crane inspection, repairs, and upgrades for area businesses. Contact Crane Tech today to learn more about our services or view our open positions here.