Understanding what a crane runway is and what it does is critical to safe operation. A crane runway is a component of an overhead crane that provides support and rigidity to a bridge crane assembly. A crane runway will include the structural components of an overhead crane, such as the vertical support columns, the bridge girder to support the rail, and a trolly/hoist assembly. Today we will briefly discuss what purpose a crane runway serves, how one is constructed, and the safety procedures it requires to operate safely. 
What Is a Crane Runway?
A crane runway structure is part of an overhead crane structure that supports the overhead crane both vertically and horizontally. A crane runway includes the columns for vertical support for the bridge girder(s) as well as the rail upon which it travels. A crane runway also supports the framework from which the crane operates, including the rails and brackets. Generally speaking, a crane runway can be constructed from a rolled section of I-beam, a welded I-beam, or a box girder. Jib cranes, workstation cranes, monorail systems, bridge cranes, and both top-running and under-running cranes often employ a crane runway system.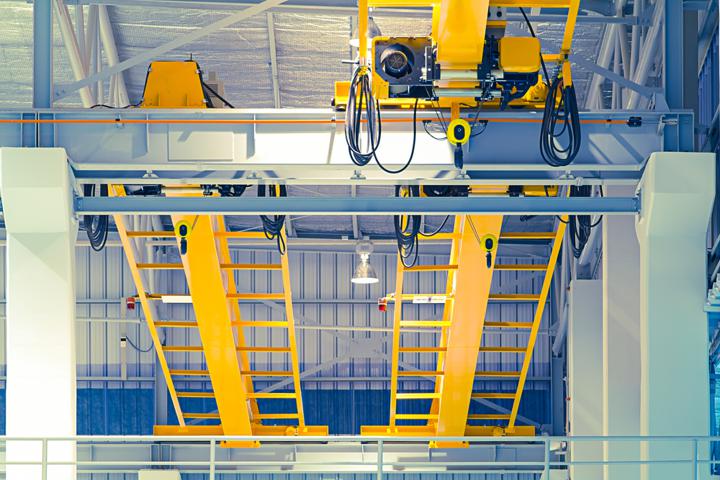 What Is the Purpose of a Crane Runway?
As a key part of an overhead crane, a crane runway structure consists of the vertical support (the columns), lateral support (the runway beams), and the bridge girder, which supports whichever type of hoist and trolly is being used. Crane runways can be constructed in various forms of an overhead crane, but the most common are:
Top Running Workstation Bridge
A top running crane runway is likely the most common form of overhead crane used in manufacturing and transportation. Top running crane runways include a stationary rail mounted to each runway beam. End trucks use this rail to transport the bridge and hoist along the crane runway. Top running cranes can be constructed as a single or double girder version. 
Semi-Free Standing 
A semi-free standing crane runway utilizes the structure itself to help support the longitudinal and lateral forces acting on the crane. Semi-free standing crane runways do not require as much steel, making them more cost-effective than other designs.
Underhung
Similar to a top running crane runway, an underhung crane runway utilizes a rail mounted under the runway as opposed to on top. This design increases the working range of the crane, making it ideal for spaces with less headroom. Underhung crane runways are generally more expensive to construct, so they are generally used when a top mounted crane runway is not practical.
Free Standing and Semi-Free Standing 
A free standing crane runway is a very versatile type of self-supporting overhead crane that can be located indoors or outdoors. A gantry crane for example, typically rides along a track and employs free-standing legs for support. Free standing crane runways are commonly used in large production facilities as are semi-free standing runways, which use the building structure for support.
How Is a Crane Runway Constructed?
The components of a crane runway will vary from design to design, but a crane runway will always begin with the columns. The columns are usually set in concrete and designed to the OSHA standard by a professional engineer. Jib cranes for example, are often set in concrete, as they do not use columns for support except when an approved building column is available. Semi-free standing runways use the building itself for partial support, so installations begin with a structural survey to ensure the building is strong enough. 
Crane runway alignment specifications are very intricate and must be applied carefully to prevent premature failure of the runway. In fact, even the steel must be fabricated for the purpose, as standard building steel is not designed for tight tolerances. For example, the Crane Manufacturers Association of America recommends a tolerance of only ¼" for a single bay runway, and no more than ⅜" over the entire length of the runway. Wide flange I-beams designed for a crane runway are commonly used as the runway beam/girder for its structural strength and precision milling. 
What Are the Safety Requirements for Crane Runways?
Crane safety is critical to the fall protection it provides. The components of a crane runway are subjected to constant expansion and contraction due to seasonal air temperature changes. Whether the crane runway is building supported or free standing, these stresses can cause mis-alignment of the end trucks with the rail, resulting in unnecessary wear.
As such, crane runways must be inspected annually by a certified structural engineer for signs of defects and wear. Routine operation of the runway can also loosen the fasteners on the rail, columns, and end stops so these are also part of annual maintenance. Annual maintenance and inspection are required for any crane system that includes a runway, such as:
Top Running Single Girder

Top Running Double Girder

Underhung

Semi-Free Standing

Free Standing

Cab Operated

Jib
Annual inspection is required for overhead cranes employing the following components:
Runway Girder (including Box Girders)

Runway Column

Runway Rail

Hoist

Bridge Girder

End Trucks

Trolley

Load Blocks (including the hook, swivel, sheaves, pins, and bearings)
Crane loads and crane tolerances must be calculated and respected by the skilled operator operating the crane. Load capacity for any crane will be indicated on the crane itself and represents the maximum load rating for the crane. A load chart will be used to determine the maximum load for a crane in a given configuration. If you need help planning a crane runway project, get a free consultation from Crane Tech today.